Liebherr Freezer Malaysia has established innovative refrigeration technologies system that help food to retain its taste, appearance and valuable nutrients for much longer storage, and keeping it fresh.


Liebherr Freezer In Malaysia
Types of Liebherr Freezers Malaysia
Freezers for the frozen food and ice cream industry
Liebherr Freezers Malaysia offer low energy consumption and maximum efficiency – and they ensure that you optimally present your products in tropical country such as Malaysia. Furthermore, with highly effective insulation, powerful compressors and optimally aligned refrigeration components they guarantee perfect cooling performance. The typical chest freezers options that are popular in Malaysia are:-
Storage chest freezer (solid top)
Sales chest freezer (glass sliding top)
Impulse chest freezer (curved glass sliding top)
STORAGE CHEST FREEZER
Maximum storage volume, minimum energy consumption
Large storage capacity, optimum refrigeration technology, top energy efficiency, simple controls and superb-quality workmanship: Liebherr freezer Malaysia tick all the boxes critical to the professional sector – and are an outstanding option if space is not an issue.
SALES CHEST FREEZER
Greater sales success and superb freezing performance
Liebherr Freezer Malaysia's sales chest freezers offer the very best conditions for eye-catching product presentation that promotes sales. Sliding glass lids provide a clear view into the freezers, and the products are attractively presented in sturdy baskets – for easy access and quick sales. The chest freezers are also highly robust and wonderfully energy efficient.
IMPULSE CHEST FREEZER
Invitingly presented products with Liebherr impulse sales chest freezers
With Liebherr Freezer Malaysia's impulse sales chest freezers, not only are your products arranged to great visual effect, they are also displayed clearly and invitingly beneath the sliding glass lids. This high quality presentation increases the chance of a quick purchase decision. Fitted with sturdy castors, these chest freezers can be quickly and easily moved around, as required.
Features of Liebherr Freezer Malaysia
Maximum energy efficiency
The energy consumption of the latest chest freezers has been significantly reduced by the use of advanced electronics and highly efficient refrigeration components and, of course, appliance economy is a crucial consideration in the commercial sector. Instead of an electrical heating system for defrosting, hot-gas quickly defrosts the appliance from bottom to top.
The key advantage: excellent appliance reliability as ice does not build up in the drain area and block the outlet. This automatic defrosting process occurs twice a week, but can also be manually controlled. Environmentally friendly, HFC-free R290 is used as the coolant.
Sliding glass lids
The sliding glass lids are made from robust tempered safety glass and have excellent gliding properties, making them almost effortless to open. The lids close tightly to prevent heat loss and to prevent the ingress of moisture, thereby enhancing the chest freezers' energy efficiency and reducing ice build-up. An integrated hot-gas frame heater prevents condensation forming so that there is always an optimal, uninterrupted view of the goods.
Demand-controlled compressor
An electronic, demand-controlled compressor ensures maximum energy efficiency in the new supermarket chest freezers, making them more environmentally friendly and reducing operating costs. The compressor quickly and optimally adapts to the actual refrigeration requirements in the appliance interior. Two air temperature sensors determine the cooling requirements and control the compressor.
Self Diagnostic
Advanced precision electronics make the Liebherr Freezer Malaysia supermarket chest freezers exceptionally convenient-to-use and very easy to maintain. The temperature within the chest can be continuously remote-monitored via an interface and, in the event of a fault, rapid diagnostics, fault analysis and resolution can take place. The early fault detection system emits an automatic alarm and ensures that failures are quickly identified and rectified, avoiding breaks in the cooling chain and preventing financial losses.
Easy Cleaning
The rounded corners in the interiors of Liebherr Freezer Malaysia chest freezers have been carefully designed with large radius and minimized joints for easy cleaning purposes. Compliance with statutory hygiene requirements in ensured through precise electronics which guarantee exact temperatures within the chest freezer
Modern chest freezer design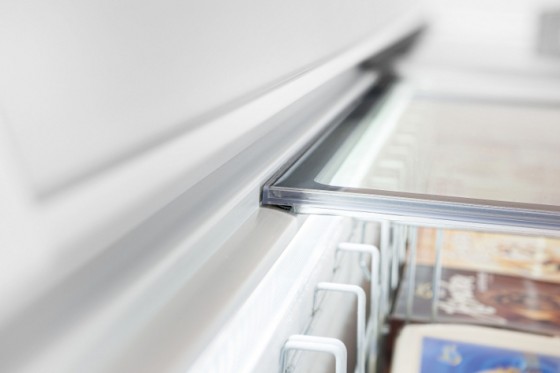 Liebherr Freezer Malaysia supermarket chest freezers are characterised by great dimensional stability, robust construction and modern design. The brand new 3D PU-spray moulding manufacturing process helps to make the plastic housing highly elastic and durable, and extremely impact and jolt resistant. It is far more resilient than the traditional sheet steel housing.