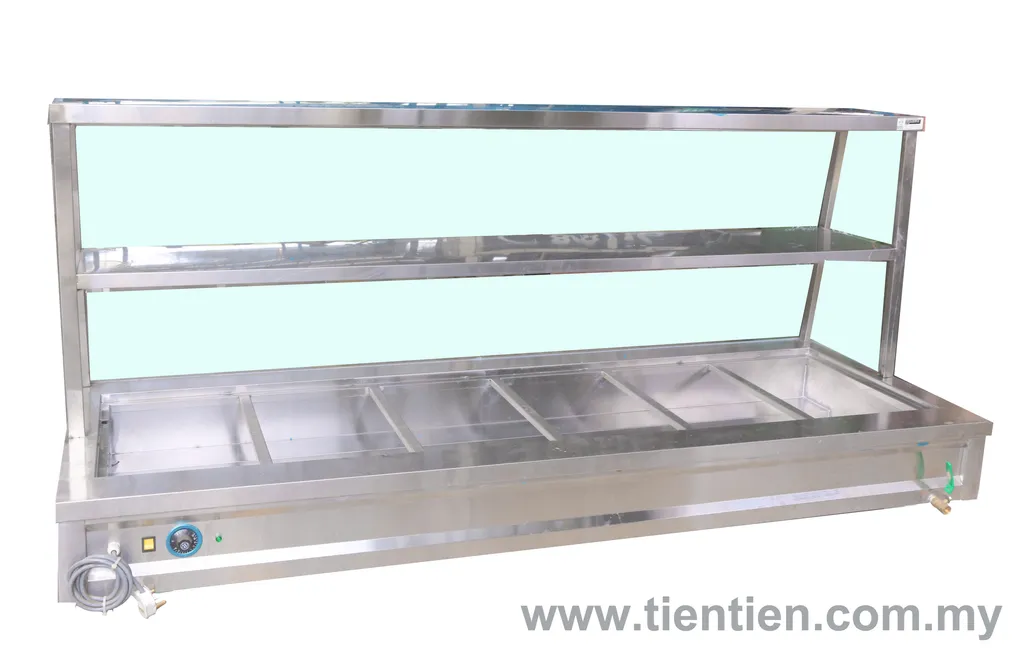 TIEN TIEN Stainless Steel Table Top Bain Marie c/w Glass Overshelf SS/BM Series (SS030)
CATALOG CODE :SS030
| | | |
| --- | --- | --- |
| Model | Dimension (WxDxH) | Total Food Pan (Full Size) |
| XSS/BM08 | 48'' X 16'' X 9'' + 28'' | 3 |
| XSS/BM05 | 60'' X 30'' X 8'' + 28'' | 4 |
| XSS/BM06 | 72'' X 30'' X 8'' + 28'' | 5 |
| XSS/BM07 | 84'' X 30'' X 8'' + 28'' | 6 |
Elegant bain marie or hot food display area manufactured by Tien Tien Kitchen Equipment. This unit is suitable to placed in area that has a fixed counter top or require the bain marie to be easily dismantled or mobile.
Features:-
Adjustable heater up to 120C
Light indicator for heater
Stop cork for water outlet
Additional glass overshelf to display more food choices
Book yours today, while stock last!
For more inquiries, kindly contact us at
Please Whatsapp to get fast response
---