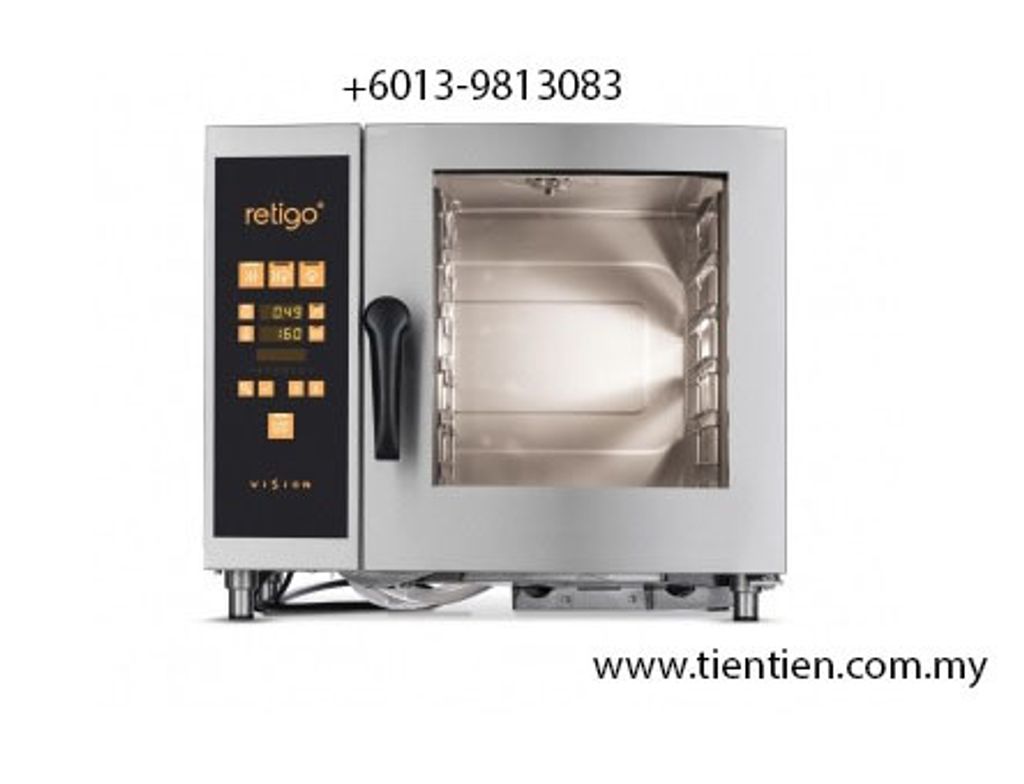 RETIGO COMBI OVEN 6 TRAY O 623 I (HD035)
TECHNICAL DATA
CATALOG CODE :HD035
| Model | O 623 i |
| --- | --- |
| Technical specification | 2E0623IZ |
| Energy | Electricity |
| Steam generation | Injection |
| Capacity | 6 x GN2/3 |
| Capacity of meals | 30-50 |
| Spacing | 65 mm |
| Dimensions (w x h x d) | 683 x 575 x 586 mm |
| Weight | 62 kg |
| Total power | 5 (3,4*) kW |
| Heat power | 4,8 (3,2*) kW |
| Fuse protection | 16 A |
| Voltage | 3N~/400V/50-60Hz |
| Noise level | max. 70 dBA |
| Water/Drain connection | G 3/4" / 40 |
| Temperature | 30 - 300 °C |
* valid for voltage 1N~/230V/50-60Hz
UNIQUE BENEFITS
VISION PERFECT COOKING

Make your diners great reason to keep returning to your place. With Retigo Vision combi ovens, you have the peace of mind that you will always achieve outstanding cooking results. The prepared foods have a perfect colour, are juicy, crispy and healthy with a minimal fat contain.

VISION DESIGN

Simply keeps you cooking with ease and comfort. Experience an excellent combination of features, exceptional ergonomics and attractive appearance. All this with a focus on safety, hygiene and long time reliability.

MY VISION CONTROLS

Gives you time to concentrate on cooking and things that really matter to you. The simpliest controls on the market will save you time and enable you to quickly and easily make all the necessary settings. Display response is perfect even with grease or gloved hands. Adapt the main menu to your needs.

SMART INVESTMENT

Generates money on savings for you every day. In-buil heat exchanger, tripple glazed door glass, 50 mm thick thermoinsulation combined with low consumption automatic cleaning will ensure you great return on investment.
FEATURES & BENEFITS
COOKING

Hot air 30 – 300 °C
Combination 30 – 300 °C
Steaming 30 – 130 °C
Bio steaming 30 – 98 °C
Over night cooking – Saves time and money.
Advanced steam generation system – Two-step water preheating with in-built heat exchanger for perfect steam cooking results.
Crosswise racks – Safer and comfortable GN handling. Better product visual control.
Regeneration/banqueting – Cook, chill and regenerate to serve more diners in shorther times.
Automatic preheating/cooling minimises the loading temperature drop. Start cooking with the desired temperature.
Sous-vide, Drying, Sterilization, Confit, Smoking – Great way to make your menu special.

VISION TOUCH CONTROLS

Touch panel – Panel works under all conditions and has a fast response, no mechanical elements, buttons or wheels.
Automatic start – The ability to schedule a delayed start.
Continuous cooking time option - Saves your time during busy operations.





OTHER EQUIPMENT

Active Cleaning – Low-cost automatic cleaning. No chef's time spent on cleaning any more.
Double glazed door glass - Advanced energy savings and external glass that does not burn you.
Auto-reversing fan – Excellent evenness to deliver high product color and texture uniformity.
Massive door handle – Comfortable and safe handling with silver ion material contain for bacteria reduction.
AISI 304 stainless steel – Exceptional quality with a special coating for a extended life time.
Hygienic cooking chamber with round inner corners – Trouble free maintenance.
Run-off tray under the door – No slipping on wet floor.
Two water inlets – Saves a water treatment unit's capacity.
WSS (Water Saving System) – Special drain system & in-built heat exchanger to save water related cost.
Removable GN holders with 65 mm spacing.

CONECTIVITY

USB plug-in – Transfer useful data easily to and from the combi oven.
VisionCombi software – Program and pictogram management in your PC, HACCP data view.

OPERATION LOGS

HACCP records – Easy and immediate analysis of critical cooking points.
Complete operating records

SERVICE

SDS (Service Diagnostic System) – Easy unit check up and trouble shooting.
DRAWINGS
Electric Vision combi oven O 623 i
A - Flap valve | B - Chimney | C - Drain | E - Electricity | V1 - Untreated water | V2 - Treated water
Combi-Ovens Vs Conventional Ovens
28Sep
So you're starting up a new franchise and you've heard a lot of good things about combi-ovens. You're thinking a brand new combi would be great back of house, but the thing is you're not sure you can justify the expense. Would it really give you that much more bang for your buck than a convection oven?
If that's just summed you up perfectly, you're definitely not alone. The decision between combi and convection isn't an easy one. There's no argument that combi's are more versatile, but there's also no argument that you can often pay a fair bit more for that versatility. So is it worth it? Well, let's find out.
These are the 5 questions you need to be asking yourself when deciding on combi ovens vs convection ovens.
Are You 100% Sure What The Difference Is?
OK. Sorry to have to ask, but it's best to make sure we've got the bases covered before we go any further.
Basically, a combi-oven is a steamer and an oven all rolled into one back-of-house masterpiece. The steam mode injects water into the oven for poaching or steaming, while the oven mode circulates dry heat ideal for baking or roasting.
What really makes combi-ovens special is their ability to do both at the same time. This means you can precisely define the levels of humidity you're cooking with at any given time, allowing for much more control over the moisture levels in your food. As a result of this added control, you're also able to significantly reduce shrinkage and weight loss of food (particularly meats), while simultaneously improving cooking times.
How Often Will You Need To Use It?
This may seem a basic question, but it's an important one. If you're starting up a burger joint where the vast majority of your cooking is going to be done on a flame-grill or in a deep fryer, you may not have a great argument for splashing out on a combi just to add baked potatoes to your menu.
If, on the other hand, your menu includes roast chicken, pulled pork, steamed veggies and baked potatoes, you're definitely going to see value in the extra overhead of a decent combi-oven.
How Much Are You Willing To Invest?
There's no denying it - combi-ovens will set you back a fair bit more than convection ovens will. It's more sophisticated and complicated technology, and for that you're always going to pay a premium. As a rough rule of thumb, combi-ovens are generally around double the price of a similar-sized and similar quality convection oven. Depending on the model though, the right combi-oven could be up to four times as much as its convection equivalent. It's no small investment.
Are Cleaning, Electricity And Space Saving Important To You?
Then it's definitely a combi-oven you're looking for. Unlike convection ovens, which everyone who has ever been back of house will know have substantial cleaning requirements, most (if not all) combi-ovens integrate a self-cleaning function that can be enabled at the end of a busy shift. This saves you time and expense in labour costs over the long-term and shouldn't be underestimated.
There's also the fact that combi-ovens are generally known for using less electricity or gas than their convection equivalents. Taking even a small amount off your power bill is an attractive prospect in any kitchen we've ever encountered.
Lastly, there's the fact that combi-ovens generally do the leg work of at least two appliances that would normally be used in your kitchen. Replacing multiple appliances with a combi-oven leaves you with a smaller footprint overall, more space back of house, and yet further savings on that electricity bill.
Remember to ask for the bundle price if you intend to buy more than 1 item
*Book yours today, while stock lasts!
For more inquiries, kindly contact us at
Please Whatsapp to get a fast response
---