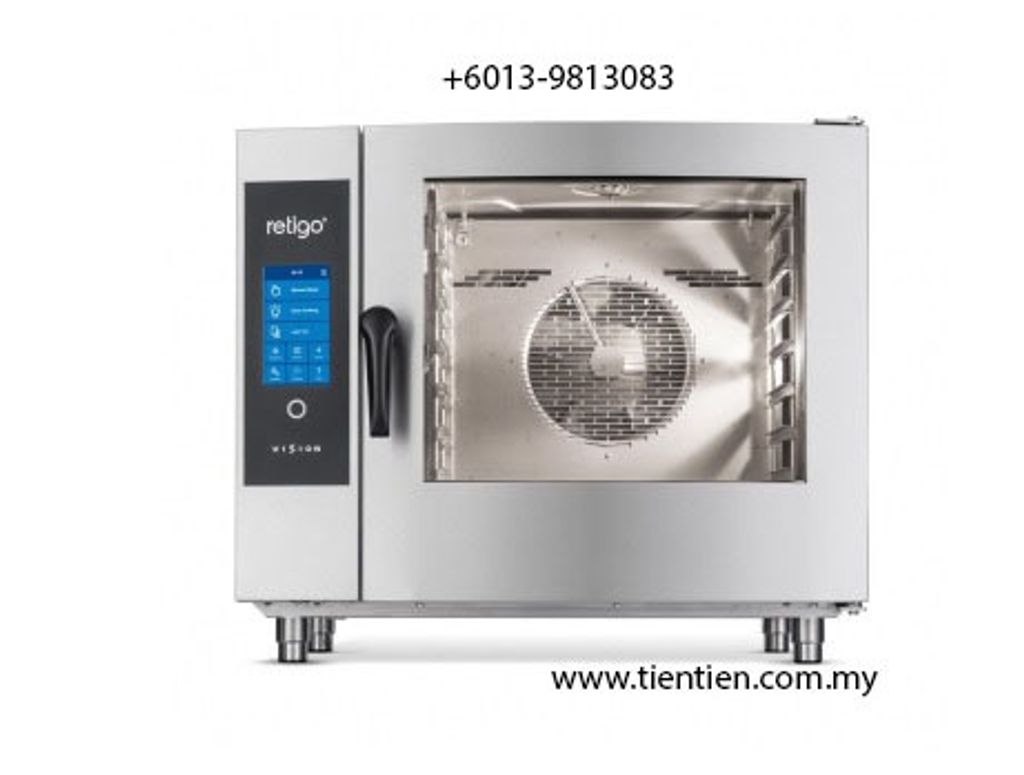 RETIGO COMBI OVEN 7 TRAY B 611 I, B, IG (HD035)
TECHNICAL DATA
CATALOG CODE :HD035
| Model | B 611 i | B 611 b | B 611 ig |
| --- | --- | --- | --- |
| Technical specification | 2E0611IA | 2E0611BA | 2G0611IA |
| Energy | Electricity | Electricity | Gas |
| Steam generation | Injection | Boiler | Injection |
| Capacity | 7 x GN1/1 | 7 x GN1/1 | 7 x GN1/1 |
| Capacity (optional) | 5 x 600/400 | 5 x 600/400 | 5 x 600/400 |
| Capacity of meals | 51-150 | 51-150 | 51-150 |
| Spacing | 65 mm | 65 mm | 65 mm |
| Dimensions (w x h x d) | 933 x 786 x 821 mm | 933 x 786 x 821 mm | 933 x 786 x 821 mm |
| Weight | 116 kg | 122 kg | 127 kg |
| Total power | 10,9 kW | 10,9 kW | 0,74 kW |
| Heat power | 10,3 kW | 10,3 kW | 13 kW |
| Steam generator power | - | 9 kW | - |
| Fuse protection | 16 A | 16 A | 10 A |
| Voltage | 3N~/380-415V/50-60 Hz | 3N~/380-415V/50-60 Hz | 1N~(2~)/220-240V/50-60 Hz |
| Noise level | max. 70 dBA | max. 70 dBA | max. 70 dBA |
| Water/Drain connection | G 3/4" / 50 mm | G 3/4" / 50 mm | G 3/4" / 50 mm |
| Gas connection | - | - | G 3/4" |
| Temperature | 30 - 300 °C | 30 - 300 °C | 30 - 300 °C |
UNIQUE BENEFITS
VISION PERFECT COOKING

Make your diners great reason to keep returning to your place. With Retigo Vision combi ovens, you have the peace of mind that you will always achieve outstanding cooking results. The prepared foods have a perfect colour, are juicy, crispy and healthy with a minimal fat contain.

VISION DESIGN

Simply keeps you cooking with ease and comfort. Experience an excellent combination of features, exceptional ergonomics and attractive appearance. All this with a focus on safety, hygiene and long time reliability.

MY VISION CONTROLS

Gives you time to concentrate on cooking and things that really matter to you. The simpliest controls on the market will save you time and enable you to quickly and easily make all the necessary settings. Display response is perfect even with grease or gloved hands. Adapt the main menu to your needs.

SMART INVESTMENT

Generates money on savings for you every day. In-buil heat exchanger, tripple glazed door glass, 50 mm thick thermoinsulation combined with low consumption automatic cleaning will ensure you great return on investment.
FEATURES & BENEFITS
COOKING

Hot air 30 – 300 °C
Combination 30 – 300 °C
Steaming 30 – 130 °C
Bio steaming 30 – 98 °C
Over night cooking – Saves time and money.
Rack timing – Set individual rack times for multi product cooking.
AHC (Active Humidity Control) – Automatic humidity control for great cooking results.
Advanced steam generation system – Two-step water preheating with in-built heat exchanger for perfect steam cooking results.
Crosswise racks – Safer and comfortable GN handling. Better product visual control.
Regeneration/banqueting – Cook, chill and regenerate to serve more diners in shorther times.
Delta T cooking – Use advanced cooking method to reduce shrinkage on slow roasted meats getting amazing results.
Low temperature cooking – Benefit from less weight loss, better taste.
Cook & Hold – Let it cook and held serving temperature.
Golden Touch – Add a golden-brown, crispy finish with just a touch.
Automatic preheating/cooling minimises the loading temperature drop. Start cooking with the desired temperature.
Sous-vide, Drying, Sterilization, Confit, Smoking – Great way to make your menu special.

VISION TOUCH CONTROLS

8" display – Perfect overview, easy and intuitive control.
MyVision – Customize your menu so you have all you need right on the main screen.
Touch panel – Panel works under all conditions and has a fast response, no mechanical elements, buttons or wheels.
Easy Cooking – Get great results even with less experienced chefs thanks to easy cooking guidance.
6-point core probe – Allows foods to be automatically cooked to any desired internal temperatur.
1000 programs with 20 steps
Pictograms – Take a food picture on the main screen. Match it with a program. Touch it to get the desired cooking results repeatedly.
Learn function – All cooking adjustments are recorded. At the end you save great results achieved and recall them again when needed.
Last 10 – Cooking process easy to be used again bu just a touch.
Multitasking – Unique opportunity to work with a display during cooking.
Automatic start – The ability to schedule a delayed start.
EcoLogic – Energy consumption shown right on the screen. Keeps your cost under control.
Continuous cooking time option - Saves your time during busy operations.

OTHER EQUIPMENT

Active Cleaning – Low-cost automatic cleaning. No chef's time spent on cleaning any more.
Tripple glazed door glass - Advanced energy savings and external glass that does not burn you.
Auto-reversing fan – Excellent evenness to deliver high product color and texture uniformity.
Flap valve – Patented dehumidification system for great colour and crispiness.
7 Fan speeds – Precise control of air distribution for desired results with different products.
Automatic Fan stop – No scalding when the door opened quickly.
Fan timing – 3 steps for greater evenness and gentle cooking.
Massive door handle – Comfortable and safe handling with silver ion material contain for bacteria reduction.
AISI 304 stainless steel – Exceptional quality with a special coating for a extended life time.
Hygienic cooking chamber with round inner corners – Trouble free maintenance.
Hand shower – External water supply hose with spray nozzle. Extra water source at your disposal.
Run-off tray under the door – No slipping on wet floor.
Two water inlets – Saves a water treatment unit's capacity.
WSS (Water Saving System) – Special drain system & in-built heat exchanger to save water related cost.
Removable GN holders with 65 mm spacing

CONECTIVITY

USB plug-in – Transfer useful data easily to and from the combi oven.
Ethernet/LAN – Allows remote access for data management.
VisionCombi software – Program and pictogram management in your PC, HACCP data view.

OPERATION LOGS

HACCP records – Easy and immediate analysis of critical cooking points.
Complete operating records

SERVICE

BCS (Boiler Control System) – Nothing stops you steam cooking with the in-built advance direct steam generation system.
SDS (Service Diagnostic System) – Easy unit check up and trouble shooting.
DRAWINGS
Electric Vision combi oven B 611 i, b
A - Flap Valve | B - Chimney | C - Drain | E - Electricity | V1 - Untreated water | V2 - Treated water
---
Gas Vision combi oven B 611 ig
A - Flap Valve | B - Chimney | C - Drain | E - Electricity | G - Gas | V1 - Untreated water | V2 - Treated water
Remember to ask for the bundle price if you intend to buy more than 1 item
*Book yours today, while stock lasts!
For more inquiries, kindly contact us at
Please Whatsapp to get a fast response
---