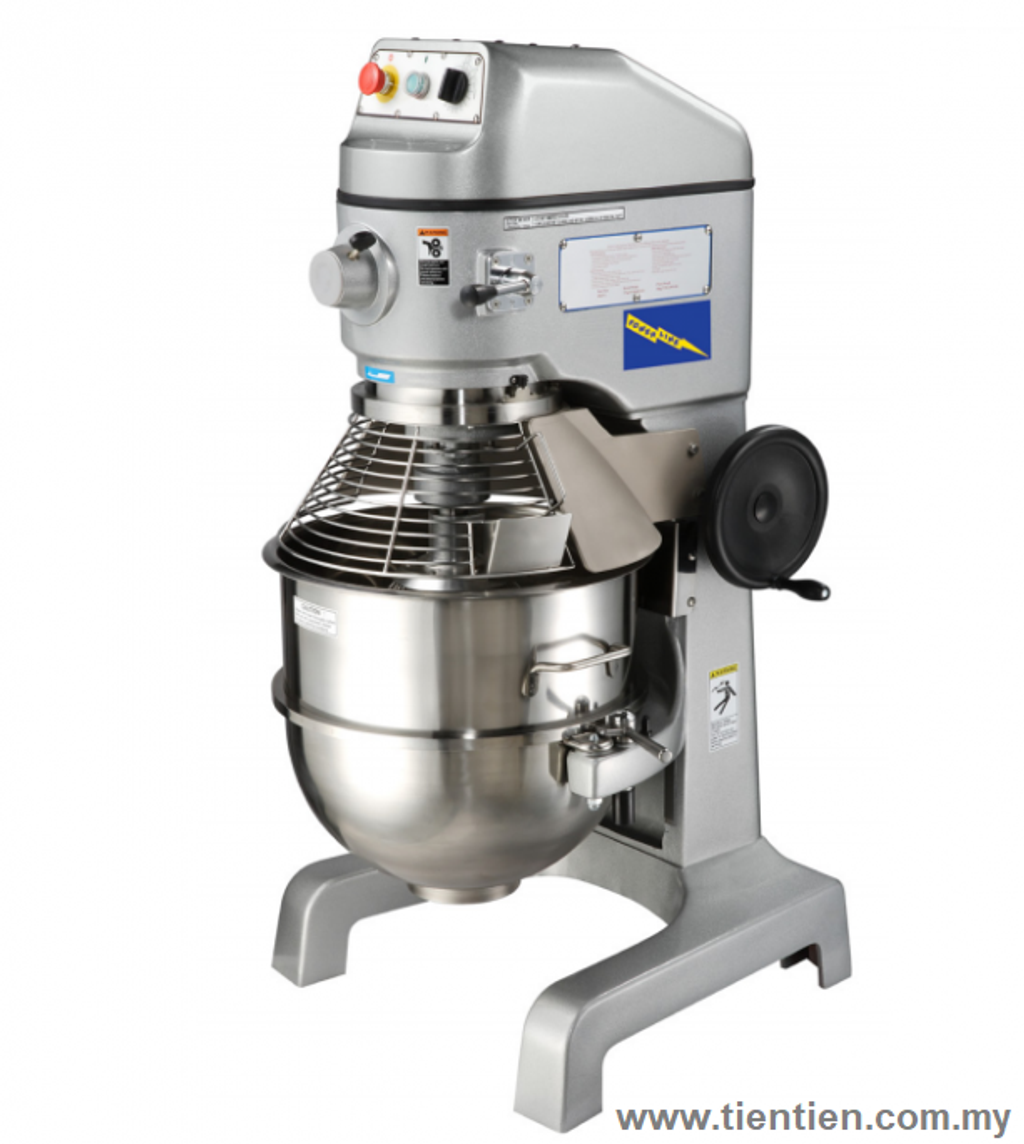 POWERLINE Mixer PM-60
Model
PM-60
Motor
3 HP 1.5 kW
Electric
220V/480V/60/3
Bowl capacity
56.78 liter (60 Quarts)
Agitator speed
Low: 99 RPM
Intermediate: 176 RPM
High: 320 RPM
Grinder speed
Low: 60 RPM
Intermediate: 108 RPM
High: 197 RPM
Gear/belt transmission
Precision milled gear transmission with cogged belt
Product dimension (L x W x H)
770 x 632 x 1300 mm
Net weight
270 Kg (595.25 lbs.)
Gross weight
310 Kg (683.43 lbs.)
PM-60 heavy-duty mixers are built to the safety standards of CE & EMC, utilizing stainless steel safety guards. A virtually silent hardened alloy gear transmission is powerful enough to keep up with peak demands. The gears are 25% greater in size than those in competitive models.
Features
6 ft. flexible 3 wire cord and ground prong/plug
Air cooled grease packed ball bearing
Heat-treated, hardened alloy, precision milled gear transmission
Long lasting rubber composite cogged belt
Stainless steel bowl equipped with dough hook, flat beater, and whip
3 speeds available: low, high, & intermediate
15 minute timer
Emergency stop button
Equipped with thermal overload protection
Equipped with #12 hub attachment to power optional PLM mincer or PLV vegetable slicer attachments
Stainless steel removable safety guard
Metallic bronze epoxy enameled top
Metallic gray epoxy enameled bottom
Sturdy hand lever adjusts bowl height, locks bowl Into place
WarrantyOne Year Manufacturing Defect
Product OriginUnited States
Remember to ask for the bundle price if you intend to buy more than 1 item
*Book yours today, while stock lasts!
For more inquiries, kindly contact us at
Please Whatsapp to get a fast response
---