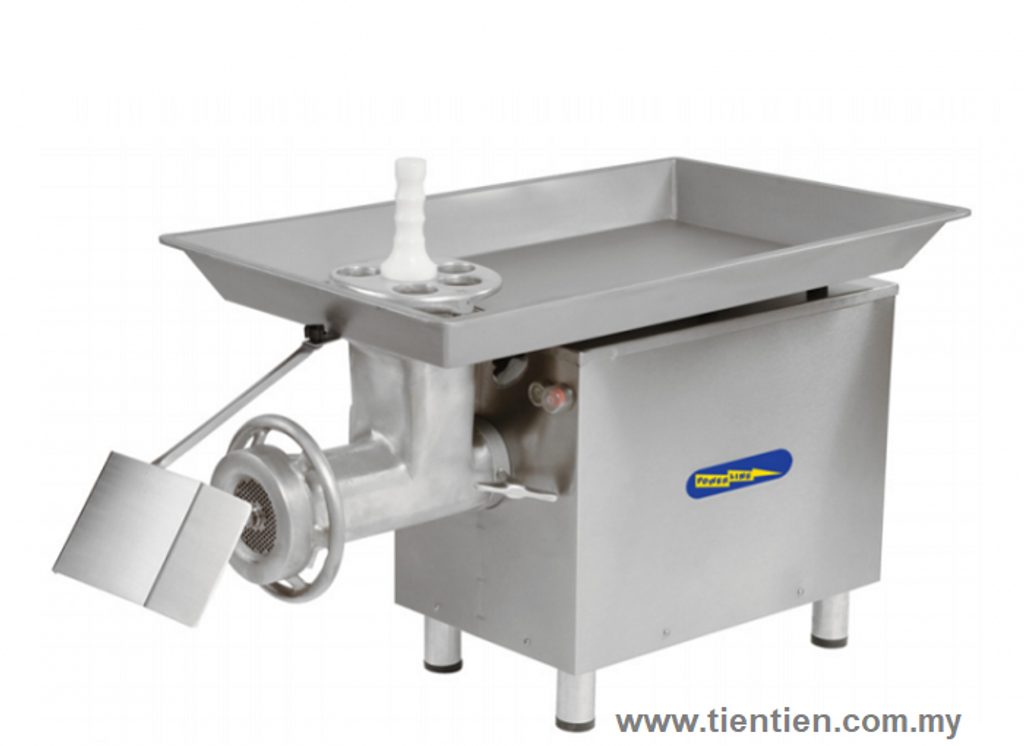 POWERLINE #32 Meat Grinder PG32
| | |
| --- | --- |
| Model | PG32 |
| Motor | 3HP 2.23kW |
| Electric | 220V / 60Hz / 3ph |
| Grinding capacity first ground | 25 kg/min (3/8") |
| Grinding capacity second ground | 13 kg/min (1/8") |
| Pan dimension (L x W x H) | 919 x 543 x 79 mm |
| Product dimension (L x W x H) | 1169 x 543 x 610 mm |
| Net weight | 118 kg |
| Gross weight | 140 kg |
The PG-32 Meat Grinder is a heavy duty industrial grinder that will handle the demands of a high volume processing plant, supermarket, or factory. It incorporates a larger feed chute that maximizes production up to 1137.59 Kg/hr. With a fully stainless steel body, this model is easy to use, clean, & disassemble. Powerline Grinders are specifically designed for long life, and this one for exceptionally high output capacity.
Features
Stainless steel construction
Safety guard
Thermomagnetic contactor prevents motor from overload
Head deflector prevents splatter from air pockets
Steel gear transmission
Oil layered/bathed steel to eliminate corrosions/friction
Knife, 3/16" plate & stomper included
High capacity head increases efficiency through holding the bigger pieces into the system
Adjustable legs & deep pan
Easily disassembled & cleaned
No belts or pulleys
Cast iron grinding system reinforced with tin plating
WarrantyOne Year Manufacturing Defect
Product OriginUnited States
Remember to ask for the bundle price if you intend to buy more than 1 item
*Book yours today, while stock lasts!
For more inquiries, kindly contact us at
Please Whatsapp to get a fast response
---