OMS Dishwasher NDWE60A
Features of OMS Dishwasher NDWE60A Malaysia
| | |
| --- | --- |
| Capacity | 10 Lt : 30 Lt( Boiler : Tank) |
| Power (kW) | 12,000 Watt : 2,200 Watt(Boiler : Tank Heater) 250 Watt : 700 Watt : 38 Watt(Rinse : Wash : Drain Pump) 380 ~ 400 V / 3 Ph / 50 Hz(Electric Connection) |
| Temperature | 85 - 90 ºC : 55 - 65 ºC( Boiler : Tank) |
| Dimension (W x D x H) | 620 x 745 x 1500 mm(Hood Closed) 620 x 745 x 1940 mm(Hood Open) |
| Basket Size | 50 x 50 cm |
| Plates per Basket | 18 pcs |
| Washing Capacity / Hour | 60 - 30 - 20 basket |
| Cycle : Hour Water Consumption | 2.8 Lt : 168 Lt |
| Water Inlet : Outlet Connection | 3/4 Inch : 1 1/4 inch |
| Water Inlet Temperature | 25 ºC |
| Water Pressure | 2 - 4 Bar |
| Detergent Pump | YES |
| Rinse Aid Pump | YES |
| Wash Cycle Time | 60 - 120 - 180 () sec |
| Model | NDWE-60A |
| Weight (kg): | 130.00 |
| Dimension (LxWxH cm) | 620.00 x 745.00 x 1500.00 |
A high performance and versatile unit the NDWE-60A is constructed entirely of high grade stainless steel and
features a powerful heavy duty pump, full stainless steel washing and rinse arms, together with a robust tank and
hood. Hygienic, durable and Smart this flexible, multi-functional pass-through Dishwasher is suitable
for any location.
Operational simplicity combined with the latest advanced washing technology and design starts with the units front
mounted, high visibility and user friendly control panel, which displays all temperature and washing programme
information. The highest levels of hygiene and performance are achieved as all rinse temperatures are kept
consistent in order to ensure all items are hygienically clean. Cutting edge tank and hood design minimises dirt
and food residue capture and the unit's powerful pump can handle the heaviest of work-loads with ease.
Servicing and maintenance is simple and can be completed quickly, as all critical components are accessible from
the front of the unit including the electric box, reducing down times and keeping operational costs to a minimum.
The unit comes complete with a two year Nayati parts and labour warranty.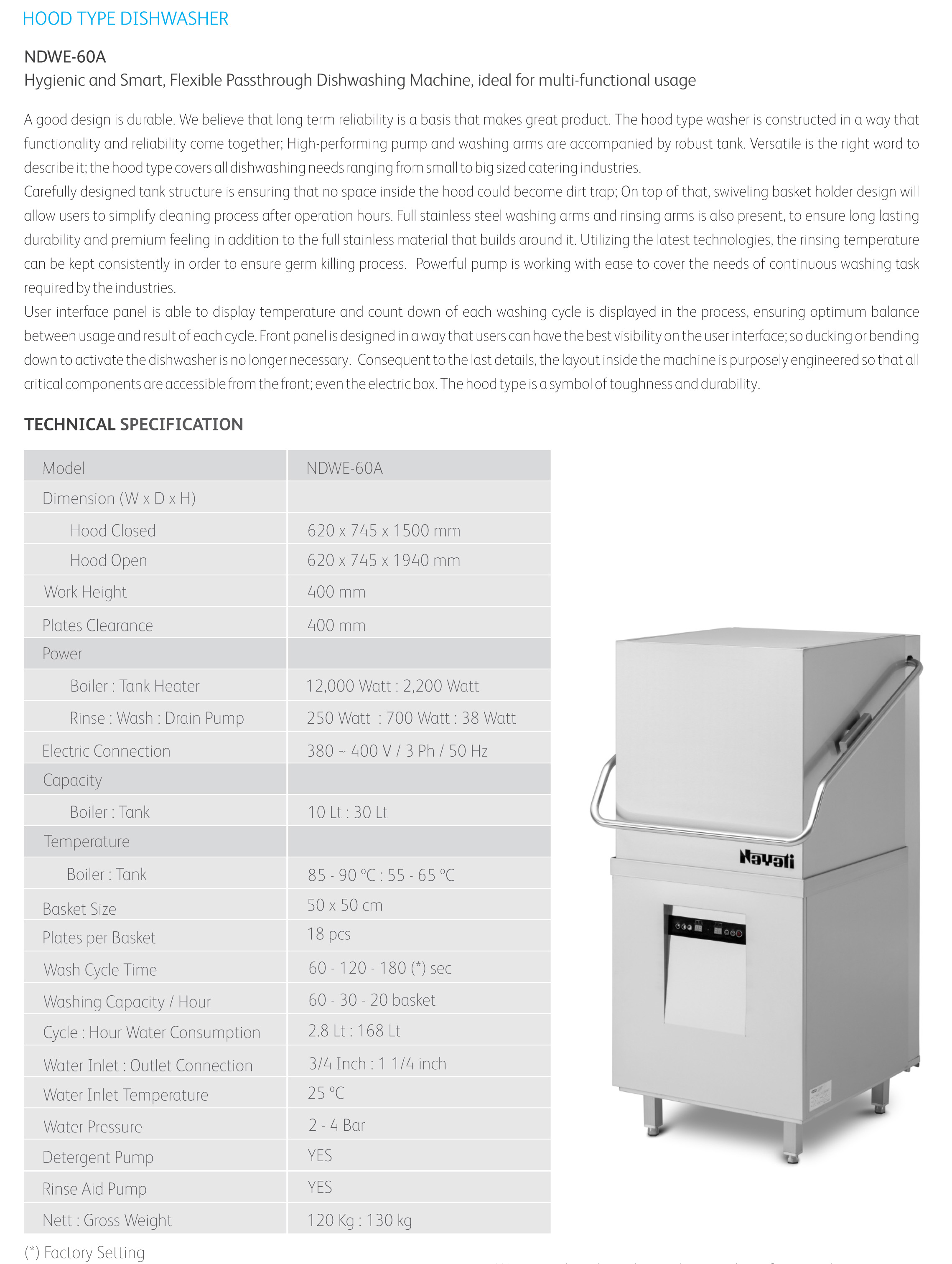 Remember to ask for the bundle price if you intend to buy more than 1 item
*Book yours today, while stock lasts!
For more inquiries, kindly contact us at
Please Whatsapp to get a fast response
---