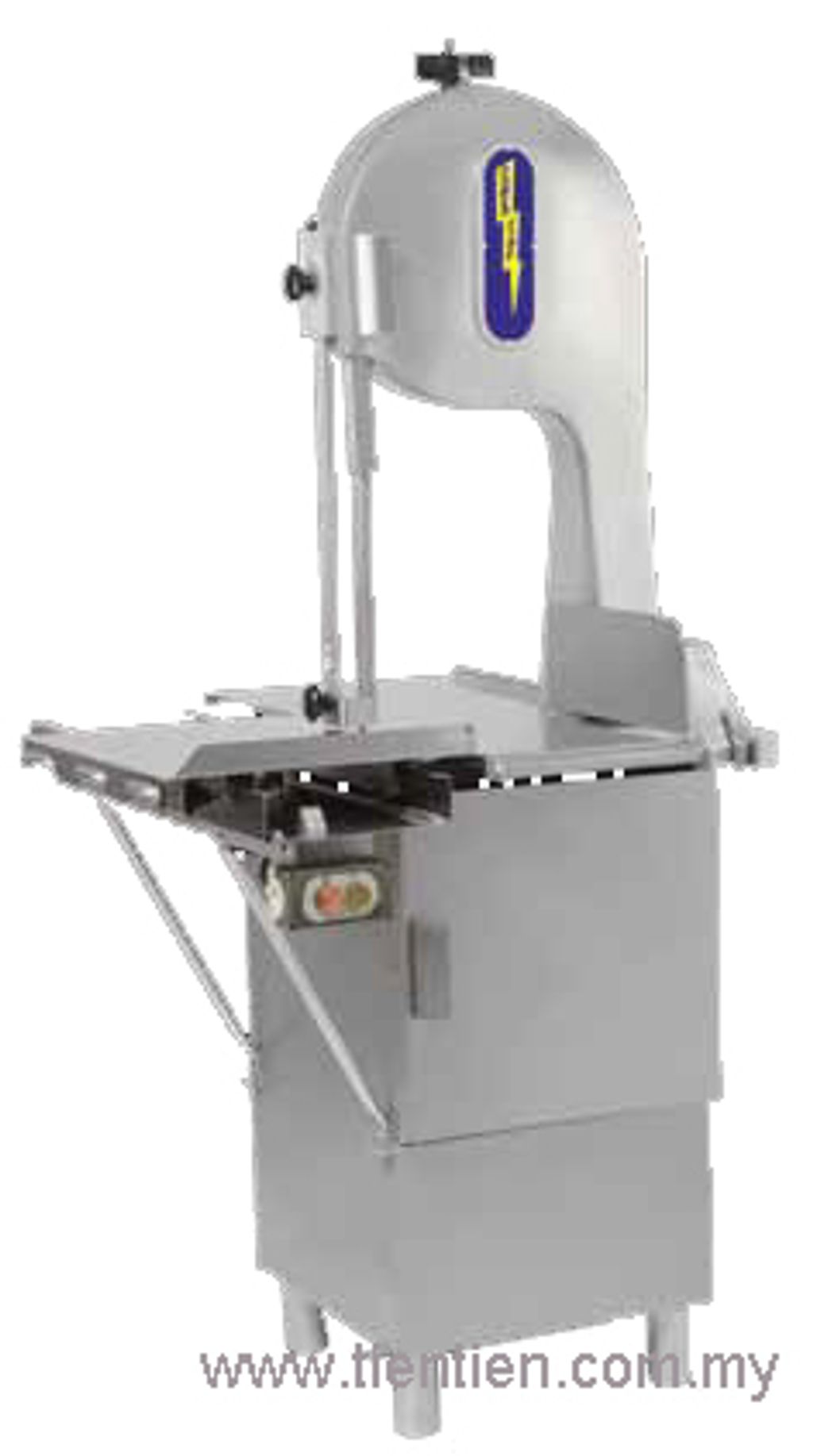 MEAT AND BONE SAWS P116-EP / 3-EP
| | |
| --- | --- |
| Saw blade | 116" x 5/8" |
| Blade speed | 53 ft / sec |
| Throat width | 13" |
| Throat height | 16.5" |
| Stainless steel made | No |
| Epoxy enamel | Yes |
| Switch type | Thermomagnetic |
| Wheel and blade scrapers | Yes |
| Waste tray | Yes |
| Power | 1.5 HP / 3 HP |
| Non-slip silent V-belt drive | Yes |
| Easy slide moving table | Yes |
| Net weight | 352 lbs / 160 kg |
| Shipping weight | 436 lbs / 198 kg |
Powerline meat & bone saws combine durability, sanitation, ease of use and cleaning
with high volume output. These machines are ideally suitable for large scale fish and
meat processing facilities, individual restaurants and supermarkets. All floor models
have stainless steel moving tables that can be easily removed without tools. The
counter models, P65-EPF and P79-EPF have fixed stainless steel tables.
The "SS" models feature an all stainless steel cabinet and head, along with a sealed
motor compartment. They are ideally suitable for fish processing plants, and are
designed to resist corrosion in a salt-water or high humidity environment. These
machines can be dismantled for cleaning without tools and can be hosed down when
necessary.
The "EP" models offer a more economical alternative to their stainless steel
counterparts. The head is burnished aluminium and the steel base has a "baked-on"
epoxy enamel finish. This finish is designed for durability and corrosion resistance
that far exceed normal painted steel and aluminium. They are perfectly suitable for
high volume meat processing in tough conditions. These models can also be
dismantled for cleaning without tools, but should never be hosed down.
Remember to ask for the bundle price if you intend to buy more than 1 item
*Book yours today, while stock lasts!
For more inquiries, kindly contact us at
Please Whatsapp to get a fast response
---