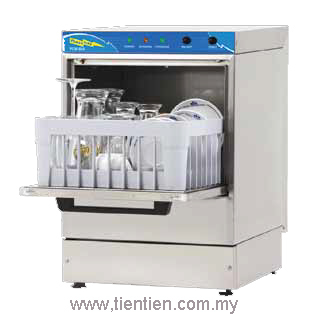 GLASS & DISHWASHERS PGW-80A
| | |
| --- | --- |
| Model | PGW-80A |
| Electrical specification | 230V / 50Hz |
| Total power | 2.6 KW |
| Pump power | 0.1 HP |
| Electric absorption | 9.15A |
| Boiler heating element | 2500W |
| Tank resistance | 2000W |
| Boiler capacity | 2.1 lit |
| Tank capacity | 14 lit |
| Water pressure | 2-5 bar |
| Water Consumption per cycle | 2-2.5 lit |
| Dishwasher dimensions | 420 x 470 x 600 mm |
| Basket dimensions | 350 x 350 mm |
| Length of cycle | 120 Sec |
| Net weight / gross weight | 27 Kg / 30 Kg |
| Water connection | 3/4" |
| Draining pipe ø | 29 - 34 |
| Stainless steel cabinet | 18/8 A ISI 304 |
| Package dimensions | 450 x 550 x 770 mm |
Every Powerline machine uses geometrically-perfect fixed-arms washing system
(square system for square baskets) which provides a washing quality impossible
to find in other machines. A Powerline washing system guarantees complete
coverage of the basket interior including the four corners because of its fixed
arms with sprinkle-type jets positioned all over the wash tank, which spread water
in a spiral movement ensuring total coverage of the wash area. Since the jets
does not move, every one of them sends water to its intended area during every
single second of the wash cycle. It's a non-stop washing system.
PGW-80A
• Door opening 27 cm
• Double skin door
• Stainless steel wash and rinse
system
• Stainless steel tank AISI/304 1mm
As of Restricted Movement Order (RMO) in Malaysia from 18th March - 14th April 2020, we have ceased all operations, however, if you have any inquiries, we will within our capacity provide our support through Whatsapp / SMS.
In this tough time, we wish all our customers to stay healthy & stay home for you, your family and the community.
Book yours today, while stock last!
For more inquiries, kindly contact Melly
Click to WhatsApp +6019-9865555
---