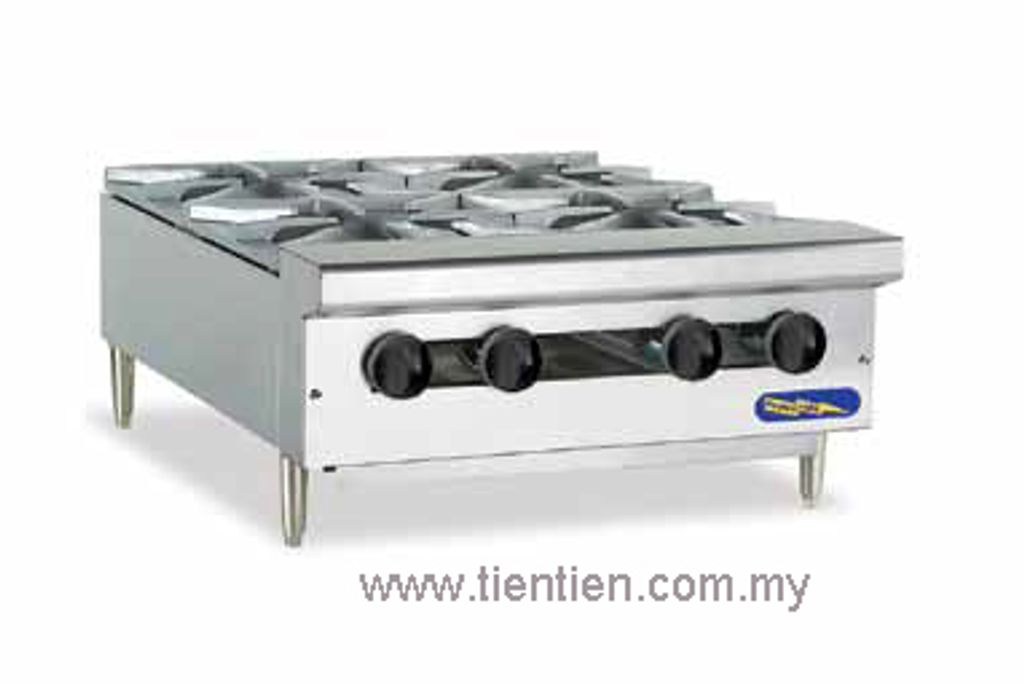 GAS COUNTER HEAVY DUTY HOTPLATES PTCHP-24-4




Model
PTCHP24-4
Description
4 open burners
Total Gas Consumption Per Model
120,000 BTU/Hr 35.17 kW
Gross Weight
195 Lbs / 88.5 Kg
Gas requirements :


Operating Manifold Gas Pressure


Natural
"WC 5 mbar 12.45
Propane
"WC 10 mbar 24.9
Manifold Connection
3/4" NPT
Input rating per burner
Total BTU/hr KW


30000 8.79
Clearances
Sides BACK
Non Combustible
0" 0"
Combustible
12" (305 mm) 12" (305 mm)
Note: Add suffix "N" for natural gas, and "L" for propane
Heavy duty gas counter hotplates built on welded angle iron frame
construction for strength and durability. Flat surface and step-up models
feature lift off cast iron open top burners with individual top grates for each
burner. Removable crumb tray is provided for easy cleaning. Standard
model sizes are 12" (305 mm), 24" (610 mm), 36" (915 mm) 48" (1,219 mm),
60" (1,524 mm) and 72" (1,829 mm).

STANDARD FEATURES:
• Fully stainless steel exterior
• 4" (101.5 mm) adjustable legs
• Gas pressure regulator
OPEN TOP BURNERS
• Cast iron lift off burners for easy cleaning
• 30,000 BTU (8.79 kW)
• Cast iron venturies
• Top grate supports located every 12" assuring the cooking top's
structural integrity
• Spill-proof pilot ignition system
• Individual 12" (305 mm) x 12" (305 mm) cast iron top grates
• Controlled by a brass valve with infinite adjustment
Remember to ask for the bundle price if you intend to buy more than 1 item
*Book yours today, while stock lasts!
For more inquiries, kindly contact us at
Please Whatsapp to get a fast response
---